Bill's Book

Chapter 5 –

God Answers Prayers
I wrote this book below to have it published but decided to put it on my website instead to share it with anyone interested. May it be a blessing to you as you read it. ~ Bill Greguska
Chapter 1 – My Letter To The Lord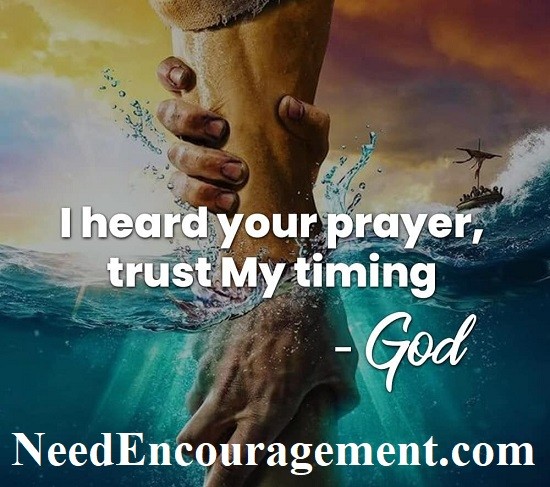 Chapter 2 – It Starts With Me
Chapter 3 – God's Plan
Chapter 4 – God's Way
Chapter 5 – God Answers Prayers
Chapter 6 – Faith During Hard Times
Chapter 7 – Relationship With Others
Chapter 8 – Love Is The Answer
Chapter 9 – Victory Over Evil
Chapter 10 – Heaven Is Our Home
Chapter 11 – Emotions Are Interesting
Chapter 12 – Recovery
---
GOD ANSWERS PRAYER
CHAPTER 5
Talking to God

Why Do I Pray Each Day?

Do I Believe When I Pray?

When Can I Get Alone to Pray

Peace With Others

Thank You for Everything Lord 

Choosing Words Wisely

How To Be More Thankful?

How to Stop Struggling?

Walking by faith
1. Talking to God

Lord, I know two of the shortest prayers that I say often are "Please" and "Thanks." I also discovered that in the past, when I do not pray each day, Lord, it is just like a relationship with a friend, it can quickly become overlooked. The relationship naturally weakens, help me to pray to you regularly, so we stay connected. Without communication with prayer, I do not have much to stand on. I have learned that keeping it real simple with you when I pray to help me, Lord. I understand that prayer is a two-way conversation between you and me, Lord. When I pray to you, my purpose is to talk with you just like I'm talking to a friend of mine in person, maybe because you are not solely my Heavenly Father, but you are my friend too always near me supporting, comforting directing me, and I thank you for everything Lord.
Lord, I know that you are not impressed with long eloquent prayers.
But you rather have my prayers that are from my heart in a child-like manner. I thank you for all your blessings and the ability to pray to you for my needs or anything on my mind or in my heart. Lord, I realize that some people pray, simply to pray, and some people pray to get to know you better, my objective is to know your will Lord, find solutions and find the peace that I can not see without you, Lord.
Psalm 121:1-2 I lift up my eyes to the mountains, where does my help come from. My help comes from the Lord, the Maker of heaven, and earth.
Prayer is simply a two-way conversation between you and God. ~ https://billygraham.org/
NeedEncouragement.com/powerful-prayers
---
2. Why Do I Pray Each Day?
Lord, when you tell me to, "Pray continually," you do not mean 24/7, but rather throughout my day as often as want or need to. I plan always to try to lean on you, Lord, for all things. I know that many people keep in constant contact with their friends on Facebook and their cell phones, I pray, and I will do my best to make sure that my prayer life with you is at least as active as my social media or preferably greater. Lord, I believe that prayer is not just something for Sundays, or when I have problems, prayer is something that I need always to be aware of and utilize continually. Help me to find time to pray, not only when the stress starts to build up, but also that prayer is not just to make a list of what I feel that you need to give me, but instead for me to discover your instructions. It is like spiritually seeing things the way you see them, not through my clouded vision.
Lord, help me to come to you in prayer for all things at any time.
For you have given me my life and saved me from my sins. I enjoy my daily quiet time with you through my prayer time and reading of your word each morning. Please help me to keep you in the center of my thoughts, always praising you both in the storms and also in the sunshine.
1 Thessalonians 5:16-18 Rejoice always, pray continually, give thanks in all circumstances; for this is God's will for you in Christ Jesus.
I always pray for God's guidance in my life, and he always provides it. He opens the right doors he shuts the right doors. And I have tremendous faith in him. He just guided my career in an amazing way. ~ Ben Carson Sr. is an American politician, author, and former neurosurgeon.
NeedEncouragement.com/how-to-pray
---

3. Do I Believe When I Pray?

Lord, I always try to make sure that when I pray, I believe that you are listening to my cries for help because I believe that prayer without belief or trust is not prayer. When I pray, I always know that you hear my prayers, even though my prayers are not always answered the way I hoped they would be, or as quickly as I would like, but they are always answered for sure. I have learned that even when something is in your will, it doesn't always mean it will be answered in my timing.
Lord, my prayer and my relationship with you have been so important, because there will be a day of judgment for me, and without me being right with you, the outcome would be devastating. I have also learned that if there is un-confessed sin in my life or unforgiveness towards someone, these things can hinder my prayers, So I have decided to keep a short account of these sins with you.
Lord, I like this acronym A.S.A.P. = Always Say A Prayer.
When I pray to you, Lord, I pray, believing that You will speak to me in some way and give me an answer to that prayer, sometimes quickly, and at all times, I need to wait patiently on you, Lord.
Lord, help me take my prayers to you as you have instructed me to do so. Help my faith continue to grow, and when I pray to you for any need or concern, I have that I will always know and believe that you hear my prayers, and you will answer my prayers according to your will.
Hebrews 11:6 And without faith, it is impossible to please God, because anyone who comes to him must believe that he exists and that he rewards those who earnestly seek him.
When I pray, I pray to believe that God will speak to me and give me an answer to that prayer. That's what a calling is. If I pray, a calling means that I feel like I have a sense from God. ~ Michele Bachmann is an American politician.

NeedEncouragement.com/pray-and-believe
---

4. When can I Get Alone to Pray?
Lord, I discovered that the best time for me to get alone with you and to pray is the first thing in the morning when I wake up. Lord, I do my daily reading, praying, and journaling the past number of years at the start of my day. Otherwise, there is a risk of forgetting my time with you. I find it very helpful and very useful to make time to pray and give thanks, also I do not take pray as something to do if all else fails. I consider prayer as my go-to tool to solve my problems.
Lord, there are many voices that I hear each day, the question is who's voice am I listening to? Your voice Lord, my voice, other people's voice, or the devil's voice? I find that getting alone with you in solitude helps me refocus on your voice and remove the confusion that sometimes gets in my head. Lord, I am thankful that I have a couple of places that I enjoy finding peace with you. I find the bathroom my favorite place. I can close the door and talk with you, Lord. That is very important to me, kind of like years ago when I played basketball, it is kind of like a talk from my basketball coach just before the start of a game, when I meet with you because you encourage me and give me direction Lord.
Lord, I need you more than I sometimes realize.
I need to pray to you for your guidance in the events of the upcoming days, weeks and months, and even years. Please show me your way, Lord, because we know your ways are always the best. I pray that we never let the devil deceive me like in my past with drugs and alcohol, thinking I did not need to pray.
Matthew 14:23 After he had dismissed them, he went up on a mountainside by himself to pray. Later that night, he was there alone.
Some people can't stand being alone. I love solitude and silence. But when I come out of it, I'm a regular talking machine. It's all or nothing for me. ~ Celine Dion is a famous Canadian singer.
NeedEncouragement.com/pray-each-day
---
5. Peace with Others
Lord, please help me to live at peace with everyone in my life a little bit better. Lord, I know you you have taught me to leave my gifts and offerings to you and make peace with others, so my sacrifice can be acceptable to you. I remember the way I was when using drugs and alcohol. It was very apparent without a doubt that I was not at peace with others or even myself. Without you, Lord, directing my steps, there is no real way to find and enjoy the lasting peace that can be between others and myself or even within my own heart. I have learned over and over that peace rules in my heart, only when you are running my life rather than me trying to run my own life.
Lord, I pray that as far as it depends on me, that there ought to be peace between myself and others.
Help me to be a peacemaker and sow seeds of peace and love with others that cross my path. Lord, help me never to forget that a simple way that good feelings and harmony are very often started with a simple smile. Lord, I need to ask myself, "Is there something with my lifestyle that is blocking friendships with others that I should consider changing about yourself?" Sometimes when I share my faith in you with others, it brings them great peace, and other times people do not like to hear me talk about you, Lord. But the risk is worth taking. I am glad that I wrote down a 3-minute testimony to have ready when the opportunity comes my way to point others to you, Lord.
Psalms 133:1: How good and pleasant it is when brothers live together in unity! 
Balance, peace, and joy are the fruit of a successful life. It starts with recognizing your talents and finding ways to serve others by using them. ~ Thomas Kinkade III was an American painter of popular realistic subjects. 
NeedEncouragement.com/be-a-good-friend
---
6. Thank You for Everything Lord
Lord, you know that in my family, I was raised Catholic, I always prayed before each dinner meal with my family. But when I was about 20 years old, Lord, you know I stopped attending the Catholic church. I was always thankful for food and things. My mom used food to be a type of reward mechanism and something to look forward to. It is so wonderful to enjoy some of my mom's favorite food, and I learned to be mindful to thank you, Lord, at each meal. Lord, you supply all of my needs, it is similar to be thankful like when we thank someone for what they do for us, which we call good manors, thanking you is much more than that, it ought to be my lifestyle which for the most part it is. I was once told that if someone gives you a gift, and I do not say thank you, that person next time might choose not to provide me with something again. That almost sounds somewhat similar to you too, Lord?

Lord, the first thing I put on when I get dressed each morning ought to be the right attitude.
I thank you for all your blessing, not only food but in all the ways you provide and bless me only like you can do. Help us to share my blessings with others freely. Help us use food to be a blessing to others, Lord, and to nurture our bodies.
Genesis 9:3 Everything that lives and moves about will be food for you. Just as I gave you the green plants, I now give you everything.
Focus on eating real, whole, natural foods. As I love to say, if you can pick it, pluck it, milk it, or shoot it, you can eat it! ~ Suzanne Somers, actress, author, singer, and health spokesperson.
NeedEncouragement.com/moms-recipes
---
7. Choosing Words Wisely
Lord, please help me always to remember to pray, and think things out ahead of time when possible before I speak, especially when I know that I will get a rise most likely out of the other person in a negative way. Lord, I realize how important it is to choose my words wisely because relationships are pretty much focused on words, actions, thoughts, and feelings. Please watch over the gate of my mouth, and prevent problems before they happen, rather than after the fact. Help me consciously keep in mind that my mouth that I praise you, Lord, ought not to be used to slander, deceived, or harm others. Please help me choose my words wisely because I might have to eat them someday.
Lord, help me use our words to build up my relationships.
Instead of causing damage, and if I have spoken wrongly, please give me the wisdom and courage to ask for forgiveness. Guard my tongue against lashing out insults or anger, because once they are said, they can not be retrieved. Give me self control and the discernment I need to be able to speak in love. I believe that an extremely confident Christian can feel free to loan their pet parrot to the town gossip and not have to worry at all what the bird might say. 
James 1:26 Those who consider themselves religious and yet do not keep a tight rein on their tongues deceive themselves, and their religion is worthless.
We have freedom of speech, but you got to watch what you say. ~ Tracy Jamel Morgan is an American actor and comedian on Saturday Night Live.
NeedEncouragement.com/power-in-words
---
8. How To Be More Thankful?

It is so appropriate to be thankful for everything, both good and not so good. For in this season of my life that you Lord, have blessed me or allowed things to happen for your purpose to me. I need to be thankful in all things even if it is hard to do so sometimes. Those so-called adverse events can often lead to some blessing in disguise. I need to make being thankful a habit and a way of life for all of me always, I search for things on purpose to be grateful for and how I can be an encouragement to others. I discovered that when I make a list of everything I can think of that I am thankful for, it helps me put things into perspective so much better.
Lord, we all have much to be thankful for.
I know quite well that I do, and I know all good things come from you, even if our health, finances, relationship, and situations seem to be temporary chaotic. Please help me to lean on you for your strength and wisdom and help keep my eyes open to see how much we ought to be thankful for. Lord, the words "Please" and "Thank you" and "Praise the Lord," I believe should be used regularly.
Ephesians 5:20 Always giving thanks to God the Father for everything, in the name of our Lord Jesus Christ.
Talent is God-given; be humble. Fame is man-given; be thankful. Conceit is self-given; be careful. ~ Harvey Mackay is a syndicated columnist who gives inspirational advice.
---

9. How to Stop Struggling?

Lord, part of the reason why we all struggle is because of original sin. I have experienced that when I have come to you in prayer, unfortunate it is sometimes as a last resort. Lord, I have heard it said many times, "We should at least pray about it."That is, the first thing we ought to do because you teach us to pray continually. I have taken time to think about the past struggles I have gone through in my life. I realize that most of the struggles I have had were because I wanted something or did not want anything. Until I can recognize that my focus ought to be on knowing and doing your will, Lord. Then I have learned that some of the struggles I have been experiencing will start to fade away. Lord, finding the way out of trouble is never as easy as finding the way to get into trouble, although I like to keep in mind that it is very difficult to stumble when I am on my knees and keeping my eyes on you.
Lord, when Satan knocks at my door, which I know, he will help me to remember that I need to let you answer that door.
I need you, Lord, to protect me, guide me, and teach me your ways. Lord, at times I may have many problems and questions, help me come to you for the answers in the first place instead of the last resort. Lord, I believe that you never give me more than I can handle, without your help available to get out of it, you are a loving Father and God to me even when I did not deserve your love and grace.
Ephesians 6:12 For our struggle is not against flesh and blood, but against the rulers, against the authorities, against the powers of this dark world and against the spiritual forces of evil in the heavenly realms.
God never said that the journey would be easy, but He did say that the arrival would be worthwhile ~ Max Lucado is a best-selling Christian author and pastor at Oak Hills Church.
---
10. Walking By Faith
Lord, I have made it a point to get to know you a little better each day, and I thank you for making yourself known. You are the one who has the answers that we ultimately need. By going to you, Lord, I will get what I am searching for directly and not spend time asking others for their opinions, unless they are pointing me to you. It is not that we shouldn't seek wise counsel, but above all, we need to go to you, through prayer and your word. The term "walking by faith" indicates that our relationship with you is alive and active; it is an ongoing relationship. It is not just meant for Sundays, as many believe. Keep in mind that God answers prayers.

Lord, help us not only to talk the talk but give us the strength to walk the walk.
Especially when the trail is hard and steep, it is in those times that I need you most, yet it is in the preparation before those times come that determine how I lean on you Lord when times a tough. Please help me keep my eyes on you and not be intimidated by the waves of the sea. I find that if my faith weakens due to personal trials or temptations, or whatever reason, it is beneficial to remind myself who I am because of you, Lord. Your Holy Spirit restores me when my burden pulls me down low. Having faith is essential as we navigate through this world, with mountains to climb and victories to claim. 
Hebrews 11:1: Now, faith is confidence in what we hope for and assurance about what we do not see.
Faith is walking by faith, not by what you feel. You are not always going to feel that Jesus loves you or that God is good, but you know He is. It is the up and down of the journey. ~ Nick Vujicic, evangelist born with the tetra-Amelia syndrome, a rare disorder characterized by the absence of arms and legs.