Find Joy By Keeping Your Focus On God!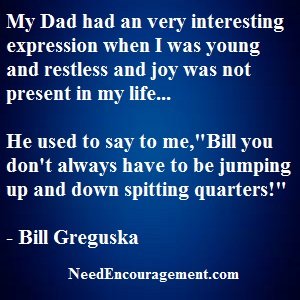 Find Joy…
If you are looking to find joy in life, you just need to look a little harder because it is there hidden under all the things that you think are important… but are not really important.
You will discover that what brings you joy are not things that you can go to the store to purchase. Rather they are not things usually, but rather Jesus Christ and people in your life.
Yes, things and activities can bring joy too, but without God and others, life's meaning is not defined correctly! Keep in mind that feelings are not right or wrong necessarily; it is what you do with those feeling that is good or evil!
Remember, do not always run from painful situations. Sometimes you need to deal with bad feelings and get over them sooner, rather than later! Find joy in life and remember that you should not worry because whatever problem you have, this too shall pass.  Always keep that in mind. ~ Bill Greguska
Joy Is Determined On Who, And What Our Focus Is On!

Here are some helpful links:
How Can You Find Joy In Life?
The walls we build around us to keep sadness out also keeps out the joy. ~ Jim Rohn
2 John 1:4 It has given me great joy to find some of your children walking in the truth, just as the Father commanded us.
 Find Joy By Believing Jesus Christ Is Lord!
 
How Can I Find Joy In Life Again?
Grief comes in many different ways; The loss of someone due to death, loss of a job, medical diagnosis, and also after a break-up. You might think you're lonely because you miss dating someone, this might not always be true.
Don't trust casual acquaintances to be real friends that you can trust with everything, practice a little restraint on who is trustworthy and who is not. There's nothing at all wrong with having many acquaintances. Don't let Satan steal your joy due to any situation that you find yourself.
Find Joy In Your Life!
Related Pages Of Encouragement:
How To Find Joy And To Be Happy In Life?
 Find Joy In Life Again!
Don't be afraid to do things by yourself especially if you are feeling lonely. Don't be afraid to go places by yourself sometimes.

If you go out to eat or have coffee on your own, try bringing a book, or your smartphone to be able to keep yourself company when there is no one to talk to at times. Getting out and about is a better choice instead of staying home alone night after night.

Consider possibly getting a pet. If you're lonely and would love to have a dog, cat, or another type of pet, this is an excellent idea. Animals can be wonderful companions. They are wonderful to come home to and be able to talk with, play with, and spend time with.

Call people you know. Even if they aren't who you want to be with, being with others is crucial to human relations. Practice doing more listening than talking. 

Take the initiative in social relationships. Take a risk by being the first to say hi and to smile at others. Do not think that just being there is enough.
More Ways To Find Joy…
Be complimentary and not critical. Like it has been said, "If you don't have something good to say, then don't say nothing at all." Find something honest that you can see the person, and then let them know.

Differentiate between loneliness and solitude. Loneliness is when you are unhappy to be alone. Solitude is when you are happy to be alone.

Consider joining a gym. Working out and taking care of our health is one of the first things that get neglected. If you're spending less time with other people than normal, try using that time to exercise.

Realize that you don't have to be in a relationship to be happy. It may be difficult to see your friends dating others. But you don't have to date to feel like you're part of a group. Make some new friends and date only when you're ready. Practice being happy and at peace with yourself and with others. 
Billy Graham Say Loneliness Can Steal Joy!
Humans are social creatures who need one another for love, friendship, companionship, support. Understand that we all get lonely at times. It is a natural part of life. 

Loneliness can seem to hit hardest when going through a transition in life such as the break-up of a relationship, the death of someone close to you, or even a new job or change of schools.
Reach out to God in prayer, and He will put someone into your life. He is always with you even if you feel lonely and sad; He can help you turn your sadness to joy! 

Trust that God has a plan for your life. Take time to figure out what that plan for your life is exactly and follow, after all, and it is critical to deal with loneliness effectively. 

Be sure to get yourself involved in activities. Choose to join a sports team or take a class in something you find interesting. You can also volunteer for many interesting things in your community.
Have Friends And Family, But Still, Feel Alone?
Don't set out to attend these individual functions with the single idea of making friends or meeting people. Plan to go with no expectations at all and to just enjoy yourself no matter what happens.

Treat those of the opposite sex as either a brother or sister in Christ. Which just means to get to know their heart and what makes them tick.

Do not try to rush any relationship because of feeling romantically attracted right off the bat. Relationships take time and need to be put to the test of time to know whether or not it is correct.
Make sure you don't start feeling sorry for yourself if you are feeling lonely about, but rather do things to get your thoughts of loneliness off your mind.

Choose to do something like take a walk, or think of things that you could do to help other less fortunate such as volunteering at a nursing home to visit the elderly, get involved with Big Brothers Big Sisters, or other types of organizations.
---
For Encouragement Call 1-800-633-3446 or Chat
---
Please contact us if you have any questions or comments or would just like some encouragement?
Worry never robs tomorrow of its sorrow, it only saps today of its joy. ~ Leo Buscaglia
Proverbs 3:5-6 Trust in the Lord with all your heart and lean not on your own understanding; in all your ways submit to him, and he will make your paths straight.